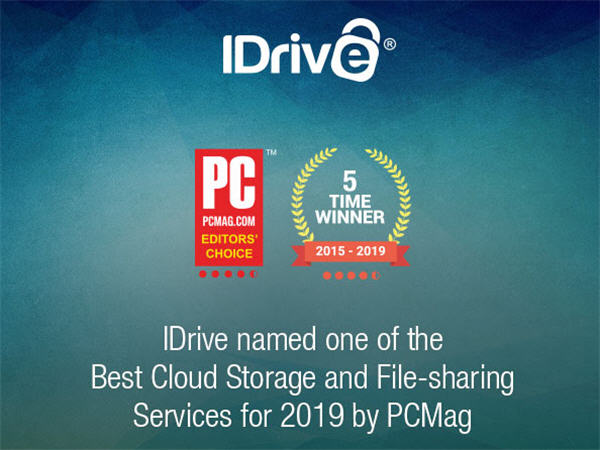 PC Magazine has again named IDrive as one of the best cloud storage and file sharing services in 2019.
This comes as no surprise and as you can see this makes IDrive online backup a 5 time winner (consecutive). We have been using and recommending IDrive for, well, I don't know how long – but a long time.
We were an early adopter of the service and set it up for our business clients probably 10 years ago. From time to time they add a feature that just makes it better than it was before; like when they added the option to send the first backup via USB drive for clients with slow DSL.
PCMag has recently conducted their yearly roundup of best cloud store and file-sharing services, and IDrive is happy to be named as one of the best, earning an Editor's Choice distinction.
What made IDrive standout among all the great services out there?
First off, IDrive is easy to set up, giving users the option of a private encryption key for an extra layer of security. IDrive also supports email-based two-factor authentication for accessing its web and mobile apps.
Unlimited device backup is a big point for PCMag, since IDrive is one of the only services that allows you to backup ALL of your devices into a single account at no extra charge.
IDrive also lets you backup an entire disk image, so if you ever find your hard drive beyond repair, you can restore a previously working version of your system with the structure and OS intact. THIS CAN BE HUGE! Image backups have saved someone's butt more times than we can count.
IDrive also performed best when it comes to upload speeds. Coming in at a price point lower than most services, PCMag concludes:
"You won't find a better overall online backup service than the full-featured IDrive, especially for the price."
We agree, which is why when friends and family members want to protect their precious photos and other data we get them setup with IDrive.
Check it out for yourself, get setup with an IDrive account by STARTING HERE – you have an option for a free 5GB account if you want to just test the waters.