Flip the Switch Remotely With Kasa Smart Plug App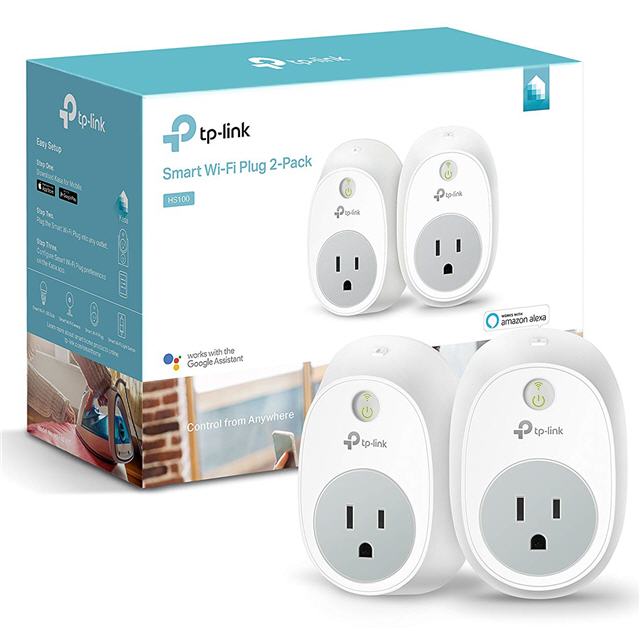 The tp-link Smart WiFi plug is an inexpensive internet electrical switch that you can use to control lights or appliances (check wattage loads) with an app on your smartphone from anywhere.
Seems like this is a product a long time coming, and even though it's been around for a while one should exercise caution when it comes to 110v power switching when no one is home. I think these devices have finally arrived, and at an affordable price.
What you see pictured above is the "standard" tp-link Smart WiFi plug which doesn't quite hog the whole outlet, but as you can see is a snug fit alongside a typical 3 prong plug. For about 50% more cash outlay you can get the compact version. (I'm tempted to get out the dremel and just flatten the bottom of the cheaper ones 🙂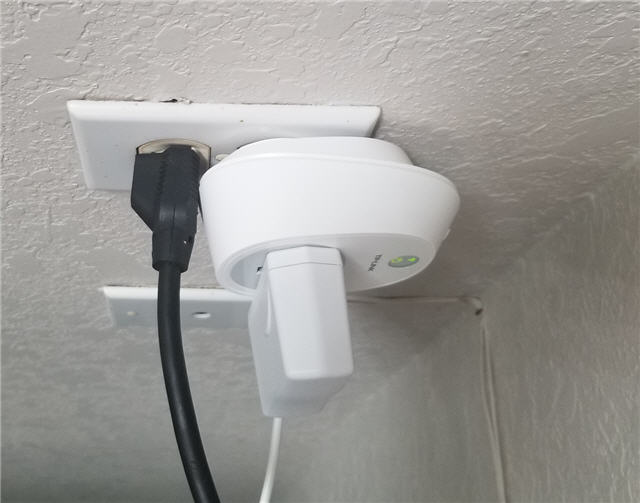 In fact, the reason I bought this particular tp-link smart WiFi plug is simply because it was the lowest cost way to check out this new technology.
Reasons To Buy A tp-link Smart WiFi Plug
As a computer professional for many years, remote access was a valuable tool for both me and my clients dating way back to the days of modems and pcAnywhere.
But what do you do when the PC locks up or maybe someone shuts it down accidentally (either locally or remotely)? With many of those devices, physically cycling the power will bring them back up if shut down and a hard power cycle will clear any software freezes and some hardware malfunctions.
Recently, I found a security camera that was freezing up. Do you know that sick feeling when a camera doesn't come alive, especially if that's the only one at that premises?
Yeah, gut wrenching.
Well, power cycling that camera fixed the issue; but what if you are away and want to know NOW that everything is alright? tp-link Smart WiFi plug to the rescue.
Until we can get the camera sorted or replaced, the smart WiFi power controller allows us to power cycle the camera in seconds with the Kasa Smart app – which is free.
Another use we are going to try is to turn on those wax fragrance warmers in advance of a real estate showing to get a vacant home smelling awesome by the time the potential buyer shows up. Sweet, huh?
And if you forget to turn it off? Pull up the app. (Yes, the home will have to have working WiFi)
Kasa Smart App To Control Smart WiFi Power Controllers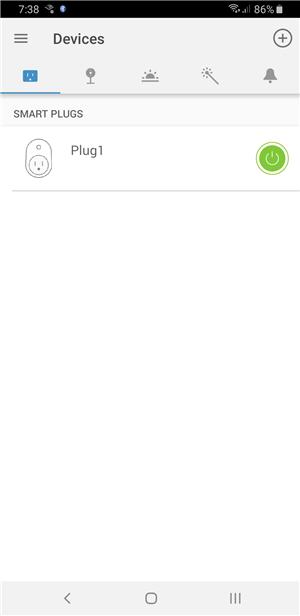 The Kasa app is really easy to configure, took only a couple of minutes to install the app and add the new device.
You can name each plug something meaningful like "family room lamp" or "coffee maker".
As you can see in the image on right, the power symbol is green if the plug is "turned on" and powering the appliance/lamp/etc and then if you touch the green button it will turn the device off.
If instead you touch the "device bar" (anything between the plug image and the green power symbol" you will get another screen giving you the option to change on/off or create a SCHEDULE for the device to be powered on!
Yep, really cool.
Installing The tp-link Smart WiFi Plug
Ordinarily we might have a tp-link Smart WiFi plug setup video or something but it's just too simply to go to the effort.
Plug the WiFi power controller plug into the wall socket, wait a few seconds for the status light to show it's ready and fire up the Kasa App – download first if you don't have it yet.
Yes, you will need to create an account on Kasa but that's just an email address – verify the email by clicking a link in the email they send you in seconds – and password.
Other than that all we needed was the WiFi password for our local WiFi network.
Then come up with a name for the plug. And yes, you can change the name later.
Summary
This is an inexpensive, awesome product to power lights or devices on and off when you are away from home, the office or the cabin at the lake.
If you want to save some money, get the "Standard" tp-link Smart WiFi plug switch in single or money saving 2 pack.
For a few bucks more you can get the compact version:
They also have outdoor versions, USB charging port versions, different colors, etc.
Really cool.