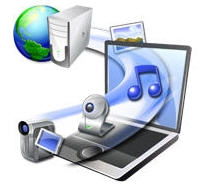 I have long been a HUGE advocate of web based remote access, especially as gas prices soared, construction proliferated everywhere (and never ended!) and traffic started driving me nuts.
Sure you can use Free Remote Desktop if you are using Windows, have either a sophisticated VPN connection or want to expose yourself to a huge security risk without it, remember to turn it on, have a complex password and pray it all works when you need it.
Instead, GoToMyPC (save 10%) eliminates the hassle of a VPN without sacrificing security, allows you to print remotely – and unlike other remote access solutions it just plain works, and even supports dual monitors (something else I am quite fond of).
GoToMyPC Now Has A Free iPad App!
Now, for all of you MILLIONS of people who own an iPad, GoToMyPC has a free iPad app that you can use to control any Mac or PC in the world, over the internet.
This is huge.
More and more tech people are using smartphones and iPads to do their work, myself included. And while I have done remote access over my smartphone, the screen is pretty darn small! The iPad screen, on the other hand, is a much better alternative if trying to do any real work remotely.
If you have ever wondered about web based remote access or held off because it was too expensive or too inconvenient, GoToMyPC has an answer to both of those issues.
Free trial and 10% off if you choose to continue
Free iPad app
Start your GoToMyPC free trial now, save 10%, use the free iPad app