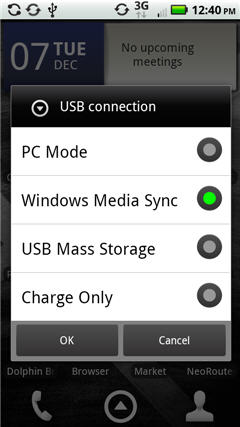 Today I was trying to transfer some files to / from the SDCard on my Motorola Droid X Android phone. For some reason I could only see a few folders and a couple of files when viewing the connected phone's SDCard on my PC.
Baffled for a moment because when I open Astro file manger on the phone itself there are dozens of files and folders there.
Turns out, because the phone is rooted and I use the adb utilities on it, I had the USB connection on the phone in Windows Media Sync.
By pulling down the top status bar and clicking on the USB connection message I got the screen at left, selected USB Mass Storage, and voila' – all the files and folders appeared.
However, then the adb utilities would not work, one of which is required to get the screen shot. Switching the USB connection setting on the Droid X back to Windows Media Sync re-enabled the adb "root" utilities.
I like having the options, and true, "they" don't expect people to "root" their phone, but it still can be confusing when you are presented a Windows explorer window of your SDCard and hardly anything shows up!
Easy fix, fortunately.