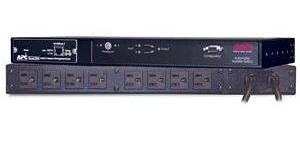 I am very particular about supplying computer equipment with power protection and managing those devices. American Power Conversion (APC) has been my choice of power protection provider for many years.
Recently I installed an AP7750 Transfer Switch so that if a UPS (Uninterruptible Power Supply) failed, power could be sourced from line power through a surge protector. This also enables the UPS to be serviced or replaced without shutting down all devices depending on it.

Due to various security vulnerabilities, I recommend changing ALL network device passwords. Easy enough.
The problem was when I changed the password on the AP7750's AP9617 NMC (Network Management Card) via the web interface, there is no confirmation of the new password required or even as optional for the change.
The result is I found myself locked out. After resetting the unit – this only temporarily resets the password, nothing else – I tried again.
Unfortunately, the tech at APC could not tell me for sure what characters were allowed for the password.
My second attempt I used no special characters. Again, locked out. OK, it's NOT ME!
So I finally just changed the password via the serial cable interface and left it alone. Don't know what's going on here, but just beware the potential.
By the way, as per the above linked article, connect to the AP7750 side of the serial interface with 19200,8,n,1,none and switch to 2400 for the AP9617 NMC. (Use a paper clip to hold the reset in 5 – 7 seconds, release, then press again to get the temporary password reset to apc | apc)
Check out the APC AP7750 Transfer Switch