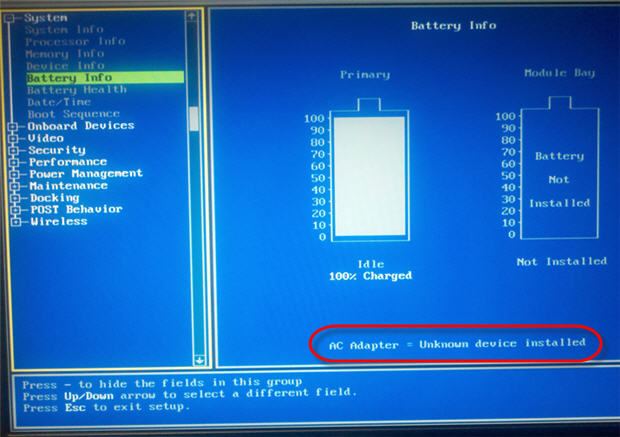 I had a client's Dell Laptop, Latitude D820, that would run on the AC Adapter but the battery would not charge. My first inclination for a laptop almost 4 years old is that the battery was bad.
So we ordered a new battery and found that, while the battery had a charge, it would not charge up either.
For whatever reason, it IS possible to have a Dell Laptop AC Adapter that will power the laptop but NOT charge the battery. So I got on eBay and bought a new AC Adapter for under $10 delivered.
Problem solved.
It turns out there is a hint of the problem in the BIOS screen under System -> Battery Info. If you notice on the screenshot above, the AC Adapter is listed as "unknown device installed".
After getting the new AC Adapter, notice on the screen shot below that it says 150 watt adapter installed. I don't know why it doesn't say "90 watt" like I think it's supposed to, but at least it's better than stating "unknown device". And, now the battery charges!