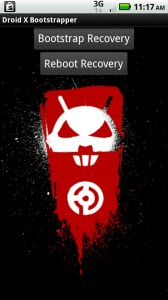 ClockWorkMod Recovery (or CWM) is one very good reason to root your android phone. The built in recovery options with android are very limited.
While this post is not all about how to use CWM, others have done that, I wanted to document how to install ClockWorkMod Recovery on a Droid-X.
Some will recommend ROM Manager for working with backups; that app did not work on mine.
So here are the steps that DID work to get it installed on my Droid-X so I could have a real, complete, backup of my phone:
Buy Droid X Recovery Bootstrap from the Android Market from ClockworkMod (It's $2.00). When you open it:
– Select "Bootstrap Recovery" (Flashes Clockworkmod Recovery)
– Allow SuperUser permission
– Hit Ok at "Success!" pop-up
– Select "Reboot Recovery" (Phone will reboot into Clockworkmod Recovery)
– Scroll down to Backup/Restore with your volume buttons
– Press your camera button to select
– Press your camera button again on Backup (will take a few to finish)
– Press your power button once to return to main menu
– Press your camera button again to select Reboot System Now
There will now be a folder called Clockworkmod on your sd card – your backups are kept there.
Get A FULL Backup Of Your Android Phone
The reason an 'ordinary' android phone use would want ClockWorkMod Recovery is to get a COMPLETE backup of your phone.
Forget the backup your phone provider offers; that's probably just your contacts & such.
Titanium Backup is great for apps and data
But for a FULL backup that will actually put your phone back the way it was complete with settings (like turning off Geo-Tagging in photos) and all the myriad little settings changes & tweeks, you want a recovery image made with CWM.
Even if you don't know how to recover your phone, with CWM installed and a backup at least you can take it to someone who DOES know or Google it and figure it out.
Betting than spending HOURS going through settings, re-downloading apps, etc.
I did that once already, and Titanium certainly made it a lot simpler, but those phone settings & tweaks I had to re-figure out myself.
Two Favorite Backup Programs for Android Phones (in no particular order):
Titanium Backup (paid version)
My Backup Pro (paid version)
Come on folks, you're probably paying $75 – 100 per month to Verizon or someone else for your phone & data, a couple bucks in the Android Market to people writing apps to save your butt and your time is well worth it!