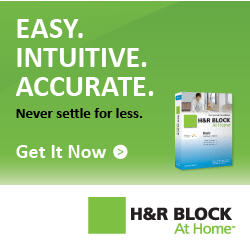 If you are like me and sometimes just want to download tax software to your computer and do all the tax preparation on your own PC then H&R Block At Home 2010 Tax Software Download (Save 20%) is what you want.
H&R Block At Home 2010 comes in a variety of flavors depending on your tax preparation needs. Some people just need the basic software which is dirt cheap.
I buy the H&R Block 2010 Deluxe because it comes with one state tax program. All of them seem to come with 5 free e-files credits.
File for Free Online is nice if your taxes are real simple and straightforward, but if you need to do a lot of what-if's and maybe want to get a preview of what your tax situation is while you wait for straggler tax information to come in, the downloading your tax software and running it on your own computer can make sense.
H&R Block At Home was previously known as TaxCut, and that is what I bought for quite a few years. Since I have used it before it makes it nice to start out the 2010 tax return by importing data from last year. Doing this saves lots of keystrokes for personal information, of course, but it also pulls in last years W-2's, 1099's etc – minus the dollar amounts.
This is a helpful feature in case you happen to be missing a 1099. If you don't have that account (or job) anymore, just delete the entry with one click.
There is also the option to import many data items if you have the information in an appropriate electronic format, but I don't use that feature.
What I do like about H&R Block (formerly TaxCut) is that everything you do automatically updates a Federal and State tax owed (refund) number in the upper right hand corner. This makes 'what-if's' really easy.
Not sure if you should do an IRA before April 15th? Plug it in and see what it will save you in taxes. Just remember not to file with what-if numbers!
When I went to buy my 2010 tax software download I was pleasantly surprised to find that H&R Block was offering the download versions all at 20% off!
H&R Block At Home 2010 Tax Software is available as a download program for both Windows and Mac platforms.
Save 20% – Buy H&R Block At Home 2010 Tax Software Download
Here is a Short Video follow up: