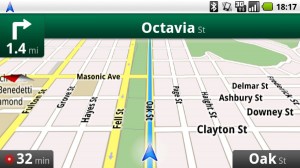 Yesterday I was riding in a vehicle instead of driving so I fired up my Droid X to see how the point to point navigation with Android was. We have a TomTom GPS and, once you learn it, it is pretty decent.
The thing that frustrates me with TomTom, though, is that no matter if you are driving with 2D or 3D display, it is not easy to get a broader "map" view to see what's coming up.
With the Android navigation, I simply touch the screen and the zoom – expand (+, -) icons came up and I was able to broaden the view to see the info I wanted – easily.
Then, to return, I simply touched the blue navigation arrow and all was back to normal.
Better yet, though, if you touch the time to destination ("32 min" in low left of screen shot above), it automatically zooms out to the 2D map I fought so hard to get on the TomTom!
Alternate Routes
When I didn't like the route it chose, it was very easy, quick and straightforward to get other selections. I wish it was simple to display those selections on the map itself – if it is, leave a comment, I didn't get that figured out. But from the text I was able to select what I wanted.
Symbols and Voice Direction
Just like the TomTom, the Android navigation has symbols on the screen to indicate the road you are on, time left to destination, upcoming turns/distance to the turn and a nag voice to tell you about it at the appropriate time. I don't know if you can change the voice or not, didn't look into that.
Satellite View
If you want to check out something REALLY cool, choose Satellite view in the "layers" option. Then, instead of a boring map, you get the Google Satellite view of the area you are in. Outstanding!
Street View
Go Ahead, touch the street view icon (after touching the screen) and you will get a Google street view photo of the next intersection; I couldn't believe it when I first saw that.
Conclusion
Overall I was very happy with the Android navigation on the Droid X. And that's another reason I love the large screen of the Droid X.
Now I will probably go ahead and get a car dock.
This smartphone is by far the most impressive computing device I have seen in a long time.