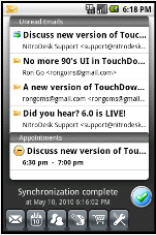 Everyone seems to be of the opinion that nothing beats Apple. iPhone is better than an Android powered phone (mine is a Motorola Droid X); iPads beat all other tablets; Macs are better than Windows PCs.
2 Things the iPhone Email Program Will NOT Do
When you send an email from your iPhone that goes through your corporate 'sync' account, Microsoft Exchange, the email will NOT end up in your 'Sent' items folder as you would want and expect. Just doesn't.
If you reply to an email while at the office using Outlook from your desktop or laptop PC, you will NOT see that reflected in the Inbox on your iPhone.
Outlook Sync Done Better On Android

In the Android marketplace you can find a great, highly rated – albeit, paid – app call TouchDown from NitroDesk (free trial available) that will allow you to see and use your email, tasks, calendar the way you would LIKE to see them; in fact, it looks quite similar to Outlook.
I cannot find the same or similar app for the iPhone.
So if you want a phone that will do a great job synchronizing with your Outlook / Microsoft Exchange system, then take a look at the Touchdown app and a Motorola Droid X smartphone running the Android operating system.