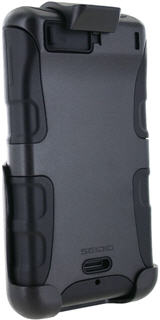 I spent a fair amount of time looking for a holster for my Droid X, reading features and reviews, forum posts, etc.
Finally I decided to go with the Seidio Ruggedized holster for the Droid X. About every cell phone I have ever carried has dropped on the floor and/or gone bouncing across the pavement at one point or another.

If you wear your cell phone on a belt clip, chances are at some point you will catch it on something, likely break the belt clip and to the floor it goes. Sure I have insurance on the phone (torn about paying it, too). But that is still a $50 deductible, you probably get a used phone and it's definitely an inconvenience at best and that's if you have your phone fully backed up.
(Hint: Titanium for the Droid for backup)
So I got the ruggedized version, which conveniently peels off in layers so you can use just some basic protection if you will not be using the belt clip holster.
The same holster, essentially, is available in standard version without the extra layers of protection and as a result is a "thinner" package.
Pretty much every review and comment on the Innocase holsters from Seidio was positive, and some manufacturers are lagging in releasing their product for Droid and hey, I need to be carrying this thing – protected.
The cool thing is that even though it has a couple layers of protection, you can still access everything.
For the camera, there is a rubber flap that folds back for use and a little notch to hold the flap. Similar flaps give access to the headphone jack, power & USB.
The on/off button you just press a "bump" in the rubberized cover and I was surprised how well that worked. Almost easier and more comfortable to the touch than the bare button without the Innocase covering.
Happy so far, I'll keep you updated if that changes.
(Also comes with "ultimate screen guard" screen protector, micro fiber cleaning cloth and applicator)
Check out the Innocase Seidio holster for Droid X