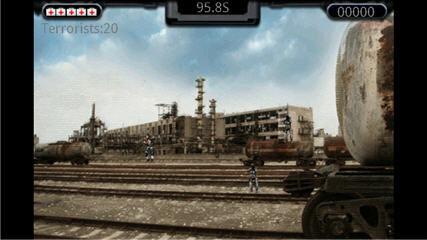 The free game "Sniper" for Android phones is pretty cool. I have not played it a lot, although enough to say it is challenging.
You tap on the screen (on a terrorist) to bring up the scope, then tip the phone to aim. Tipping the scoped back down is slow sometimes, but the game is pretty decent on response overall.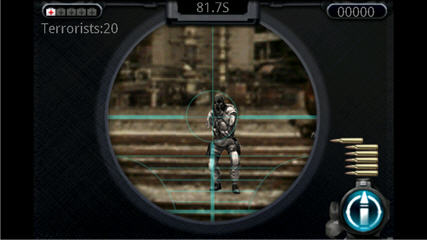 All the time you are trying to shoot them, naturally they are shooting at you. The 5 red crosses in the upper left start to go out as you are hit – when all five have turned gray, you lost.
Otherwise, you keep advancing up levels. From what I can tell though, each time you want to play you have to continue up the same levels again.
Where you hit the terrorist doesn't count on whether or not he goes down, but you do get extra points for head shots. So far, everything seems to fall into the 3 categories of head shot, body shot, and foot shot (includes legs).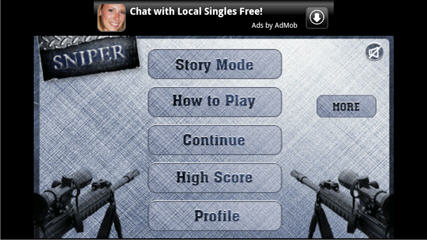 The game does have an ad on the menu screen, and most of them advertise "girls in your area" kind of thing. Oddly enough, one evening the ads were Bible/church related.
The menu also seems to not work quite right, unless I just haven't gotten into enough. Pressing the "Continue" button seems to do nothing, where "Story Mode" gets you the missions in numerical order (cannot jump past Mission 1 to a more advance mission).
One other annoyance is that the Droid X's menu key does nothing during this game. You can either keep playing or hit the back button – wait – and hit the back button again to exit.
All in all, a good game, free 'n all.