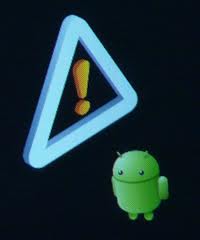 You need to know how to boot into recovery on your Android smartphone; this is for my Droid X but others should be similar.
In addition, I have at times inadvertently gotten into recovery even without pressing the convoluted key combination and thought I was "stuck" at the yellow exclamation symbol seen at left.
Try pressing the 'search' button just in case you are merely in the process of getting into the stock Motorola recovery mode.
Note, I recommend ClockWorkMod for recovery on Android Phones.
But just so you know, here is how to boot into recovery on a Droid X and probably many other Motorola Android smartphones as well.
Turn your phone off.
Hold down "Home" button and press the "Power" button until the Motorola logo appears.
Release the  "Power" button and continue to hold "Home" until an exclamation symbol appears, similar to the image above/left.
Release the "Home" button and press the "Search" button once.
Your phone will now enter the Motorola Android recovery menu.
To get out of Recovery, simply press your volume up and down buttons until "reboot system now" is highlighted and then press the camera button.
You can never know too much about your Android Mobile device. Bookmark this page.