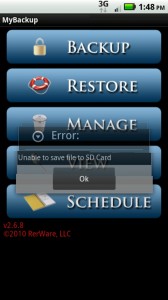 You need to backup your Android smartphone, and two of the most recommended apps are MyBackup Pro and Titanium Backup for root.
I have used the free version of Titanium backup and it successfully restored my applications and data after a fiasco required I reset my phone to factory.
But before I paid for the full version of Titanium backup for Android I wanted to check out MyBackup Pro since is supposedly is a little be easier for novice use.
Epic fail.
MyBackup, the free version, failed to to any backups, usually without telling me why. Eventually I got an error message saying it could not save to the SD card. Why, I have no idea, because every other app I have has no trouble saving to the SD card.
Exact message "Unable to save file to SD Card".
So, rather than pay the money to upgrade from the free version of MyBackup for Android smartphones I uninstalled it.
For full, complete image backups of my Droid-X, see my posts on ClockWorkMod. For app program and data backups I will continue to use Titanium Backup for Root, since my Droid-X is rooted (and you may very well want to root yours too).