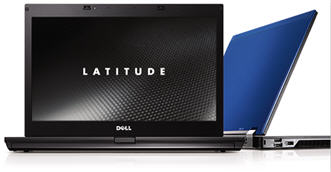 One of my clients today emailed me wanting to configure a new Dell E6510 laptop for home similar to his office laptop.
The configuration for the office laptop included a basic docking station and priced out at around $1625 plus tax. For home, though, he wanted to spend less if possible.
He sent me a link for an E6510 at $749 with the question "is this the one I have?"
My reply went like this:
That's your laptop, EXCEPT!:
It has inadequate RAM memory to run acceptably (1GB vs 4GB)
It has a lower grade processor, yours has the Intel® Core™ i5-560M (2.66GHz, 3M cache) – the one quoted was an i3
It has a hard drive so poor in price/performance that I would outlaw them if I were dictator as a waste of natural resources and a scam to consumers (5400rpm)
The internal wireless card is less reliable than the one you have (Dell vs Intel)
Lower resolution screen (you have the 1600×900)
DVD drive is NOT a DVD writer
The warranty is MAIL-IN, meaning that instead of a technician coming to you, you have to SHIP IT to them – not only is this terribly inconvenient and time consuming, it risks additional damage in transit
The warranty on yours is CompleteCare meaning that it covers accidental damage to the unit, the most likely problem most laptops encounter
It has Windows Home Premium versus Windows Professional; this is probably an acceptable downgrade considering your intended use.
The key point is this: most people really do not know how to configure a laptop, and that's OK, that's what I am here for!
Let's look at the individual Laptop Components
Processor
I always like to buy the most processor for the money. In the case of this Dell E6510, the Intel i3 processor was at the low end, the i7 at the high end. Both are out. The i5 is not much more money than the i3 so that eliminates the i3. The i7 is quite a bit more than the i5, so that's out.
Now it comes down to Ghz. If you can go from 2.4Ghz to 2.66Ghz for $100, maybe do that. But $100 to go from 2.4 to 2.53? Probably not. Much of this is subjective to your own finances, but how much RAM you have and the hard drive (or SSD instead of hard drive) will do more for performance than a small increase in Ghz speed.
Memory (RAM)
With any new laptop, 4GB should be the minimum. 2GB on small notebooks, maybe. The only choice here is how many DIMMs. Dell will charge more for 1 DIMM than 2, because with only 1 DIMM you can ADD memory later, with 2 DIMMs, you can only throw out your RAM and replace with more – which is more expensive.
If you are using a 32bit operating system, like Windows 7 32 bit, there is no reason to go with more than 4GB. If you are using a 64 bit OS, then maybe you want to consider something above 4GB, but right now you will pay through the nose for it. Perhaps consider the option of a later upgrade. Price it out at today's rates with the Crucial Memory Advisor Tool.
Display Screen
Glossy vs Anti-Glare
The first choice is a glossy vs anti-glare screen. This is a personal preference but if you have a window behind you or don't like seeing yourself in the 'mirror' of the screen, you may want to choose anti-glare. HP is known for glossy, Dell for anti-glare.
With the MacBook Pro I just bought, I paid extra for the higher resolution screen in anti-glare finish.
Screen Resolution
When it comes to resolution, more is not necessarily better; and it depends on how large of screen to know what kind of resolution is good.
With a 13″ screen, 1280 x 800 might be respectable, but on a 15.4″ then 1440×900 is low end.
15.5″ (approximate – might be: 15.4, 15.5, 15.6) screens are probably the most popular for general use (students might opt for 13″ since they will be toting around a lot).
Many 15.4 high end laptop screens will go as high as 1920 x 1080 or so, that's almost the same resolution as my desktop 24″ widescreen monitor! Anyone with poor or fading eyesight may find it difficult to read the icons and text unless they fiddle quite a bit with the settings which MAY negatively affect some applications.
With this particular Dell E6510, 1366×768 was low end, 1600×900 mid range and 1920×1080 on the high end. For my clients, I have never had anyone – even a sub-30 year old – want a 1920×1080 screen. 1600×900 keeps most people happy yet I have had many a 35 year old ask if I could make the letters & icons bigger!
Video Card
Most people probably do not need to upgrade the video card in their laptop from the standard selection in any laptop configuration website. Doing so will likely not be noticeable and it will cost quite a bit.
If it DOESN'T cost quite a bit to upgrade, do so.
Usually you only need higher end video graphics cards if you are going to be doing photo or video editing/processing or running an engineering program. This is seldom done on a laptop.
Second Display
What you may want to consider is the addition of a second display monitor. If you use your laptop in place of a desktop PC then a second screen is really nice. Make sure both your graphics card and the laptop itself will support that if you think you will be utilizing that feature.
For everyone who gives 2 screens a try, almost every single person finds it indispensible.
Hard Drive (or SSD)
If your laptop is configured with enough RAM, then chances are that if you are looking at an hourglass it is because Windows is waiting on (or thrashing the daylights out of) your hard drive.
Why, I don't know, but most laptops are configured with a 5400rpm hard drive (yes, even a MacBook Pro which is outrageously priced!). For a couple dollars more, the manufacturer could install a 7200rpm drive. Yet they often want $50 for an upgrade to a 7200 when they can buy the entire faster drive for that.
Is the performance noticeable? Absolutely. Shocking, probably not.
If you want SHOCKINGLY faster performance out of your laptop, then either configure it with a Solid State Drive (SSD) or upgrade to an SSD later.
The size of the SSD will determine the cost… so let's talk about size for a minute.
While everyone wants a huge hard drive, a laptop doesn't necessarily need one. Keep in mind that anything you have on your desktop PC or Laptop is destined to be lost forever if you don't have a current backup!
You can have a moderate sized SSD in your laptop and keep large files on an external hard drive (that is backed up!) or preferably on a home network attached storage device that not only is backed up but preferably has redundant (RAID) hard drives.
Optical Drive
Some people opt not to have an optical drive in their laptop or notebook; MacBook Air's don't have one and neither do most netbooks. For those, you can use a USB external DVD/writer.
I think if you are going to have an optical drive you should get the DVD/RW for sure. A standard DVD Rom may not read DVD's your create on other PCs and will not allow you to write DVD's.
Blu-ray is an option, but boy is it expensive ($453 upgrade at today's prices). Enough said.
WiFi
When it comes to WiFi adapter, I have found the Intel WiFi option on Dell laptops to be worth the $20 or $30 increase over the standard Dell wireless adapter. Just seems to work better and give me more options for connecting to a variety of encrypted WiFi networks.
Modem, Blue Tooth
Modem, what's that? (just kidding). Same with Blue Tooth. If you need it, you probably know you need it. Probably have to pay a little extra.
Warranty
Warranty is a topic that generates a lot of opinion. If the laptop you are buying is $499 with a free printer, then don't worry about the fact that you only get 90 days or maybe a year warranty. Quality is obviously not what you are worried about.
If it bothers you to think that your $1500 laptop could become a doorstop after 13 months, then make sure you get a 3 year warranty.
Here's the kicker, though. Many basic warranties are 'depot' or 'mail-in'. BAD idea. Not only will it take you longer to get your laptop fixed but there is additional expense in shipping it in (with insurance!) and additional risk that it will get damaged in transit. Besides, did you save the box it came in?
SECRET!: Read the fine print. Many times with electronics the very packaging the manufacturer sent you the brand new working item in is NOT sufficient for returning a non-working unit to them for warranty repair! Double standard, I know; probably just a way for them to deny the claim should they want to.
Accidental Damage: The biggest risk to a laptop or mobile device of any kind is accidental damage. NO WARRANTY I AM AWARE OF covers this! Dell offers 'CompleteCare' which I always recommend for quality laptops. This covers damage from dropping, spilling on, leaving in your car when it's too hot or too cold.
If you are giving the laptop to someone else to use who didn't pay for it (student, employee) then I would seriously consider CompleteCare or the equivalent. It's even a nice financial backstop for your own use.
Questions On Configuring A New Laptop or Mobile Device?
The best way to contact me for specific questions is to submit a new thread on my free Support Forum and I will do my best to help.